FREE & VIRTUAL GERIATRIC SEMINARS FOR COMMUNITY EDUCATION
Promoting Healthy Aging and Healthy Community in Nevada
NIHAN's 10-week Geriatric Seminar Series provides free health care education and resources to the geriatric community, by presenting topics related to the 4Ms, an age-friendly health care framework—What Matters, Medication, Mobility, and Mentation.
The goal of the seminars is to foster healthy aging for old adults, in order to create a more healthy and age-friendly geriatric community.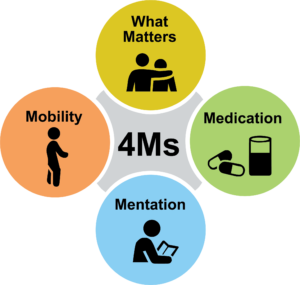 How to join the seminars?
The NIHAN Geriatric Seminars are held every Tuesday, October 4 though December 13, via WebEx Meeting from 12:00-1:00pm Pacific Time.
In order to join the virtual seminar, pre-registration is required. Please click each seminar topic below to register.
After you register for each seminar, a WebEx Meeting link will be emailed to you. Simply click the meeting link to join!
The NIHAN seminars can be accessed on your computer, smartphone, or tablet.
For questions or assistance with registration, please contact NIHAN at nihan@unlv.edu or call at (702) 272-0684.
At the conclusion of each seminar, the WebEx Meeting recording will be shared below. To access the video, simply hover over the card that says "Watch Seminar Here", and press play; you will be directed to the seminar recording on NIHAN's Vimeo page. Please remember to register for all seminars you plan to attend and/or watch.
Topic: COVID 19 Safety Tips
This webinar provides information on how COVID-19 spreads, practical tips to prevent its spread, and what are some tips if you or someone you know is sick or has had contact with COVID-19.
Instructor: Gloria Mandel, Nurse Practitioner, MIR, MSN, APRN, NP-C
During the COVID-19 pandemics, the NIHAN Program and UNLV Geriatrics Fellowship program are developing educational materials to improve telehealth use for older adults in Nevada.
Instructor: Ji Yoo, MD
NIHAN's Geriatric Seminar for Older Adults and Caregivers Seminar will review the risks and side effects of high-risk medications and opioids use, especially among the elderly.
Instructor: Gloria Mandel, Nurse Practitioner, MIR, MSN, APRN, NP-C
Topic: Advance Care Planning
The seminar will discuss what Advance Care Planning(ACP) is, why it is important to consider ACP documentation especially in the COVID-19 pandemic era, and how to document ACP, and where/whom to ask for help to document ACP.
Instructor: Ji Yoo, MD
Subscribe to our Newsletter
Get the latest news, events and be the first to learn of new online training modules.