To discover ways NIHAN is optimizing an age-friendly healthcare workforce in Nevada and serving geriatric community members, check out our news section below!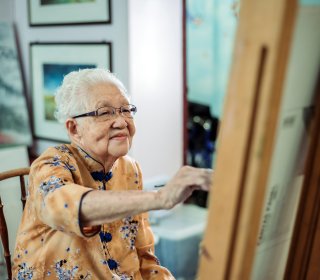 Cleveland Clinic Nevada's Lou Ruvo Center Holds Community Outreach Events
Cleveland Clinic Nevada's Lou Ruvo Center for Brain Health, a NIHAN partner, regularly hosts seminars, classes, and events to support those living with cognitive conditions like Alzheimers disease and related dementias. The Lou Ruvo Center for Brain Health offers therapeutic services—such as group music therapy and yoga—as well as support groups and art classes, all at no cost! For a comprehensive list of events nad offerings for January 2023, click here or visit the Cleveland Clinic Nevada event site.
NIHAN Quarterly Newsletters
The NIHAN Operations team has started publishing quarterly newsletters, so healthcare providers, patients, and other geriatric community members can stay up-to-date on project updates and outreach events being hosted around southern Nevada. The inaugural publication was sent out in November of 2022 and covered NIHAN project news from the quarter spanning July, August, and September.
You can access all past quarterly newsletters at the "NIHAN Quarterly Newsletter" links below. Be sure to also sign up for our newsletter subscription, so you can receive our future issues directly to your inbox!
Issue 1
July - September 2022
Issue 2 (Upcoming)
October - December 2022
Issue 3 (Upcoming)
January - March 2023
Issue 4 (Upcoming)
April - June 2023